Description, purpose:
To honor Nicolas Denys, Cape Breton Island's first permanent settler, and to collect and preserve the history and artifacts of the St. Peter's area.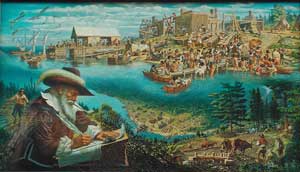 Painting by Lewis Parker
depicting Nicolas Denys in St. Peter's in the 1660s.
Photo: courtesy of Warren Gordon, Sydney.
Highlights of the Museum:
Nicolas Denys was a maker of history in Acadia for over half a century: his remarkable qualities make him one of the builders of this new land, Cape Breton, in its beginnings.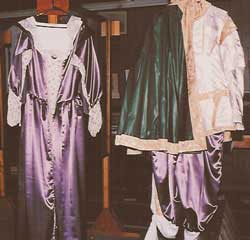 Above, from the Museum's collection: reproductions of costumes which Nicolas Denys and his wife would have worn in the 17th century.
Nicolas Denys (Tours, France 1598 or 1603 - Paris, 1688) has been associated with St. Peter's history.
This is where, in 1650, he built a trading post and tried to develop the French colony. For years he was engaged in fisheries here, manufactured lumber, and cultivated land.
He constructed a road across the isthmus between the Atlantic and the Bras d'Or Lake, and hauled his boats over that portage. He traded with the Mi'kmaq First Nation.
Below:
Nicolas Denys lived in St. Peters's, but he also was active in other areas throughout present Nova Scotia and New Brunswick.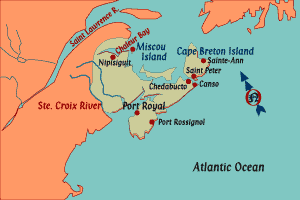 Other interesting facts:
St. Peter's (1650) celebrated its 350th anniversary in 2000.

Ruth Morrison and Alice Curry drew up the plans for the French-styled building housing the Museum (1967).

Special activities or events:
Open House during the 1st week of August (during Nicolas Denys Days in St. Peter's, a yearly event since 2000); along with auctions, flea markets, a parade, ceilidhs, chowder lunches, etc.


Workshops / Educational Programs:
School tours.

Demonstrations by people in costumes: butter churning, wheel spinning, sewing on an old machine, etc.

Contact information:
The Nicolas Denys Museum

P.O. Box 204
46 Denys Street
St. Peters, NS B0E 3B0

(902) 535-2379

June 1 - September 30
Open daily, 9:00 am - 5:00 pm

Adults, $0.50; children, $0.25.
Bus tours, $10.00. School bus tours: no charge

Parking area, washrooms, picnic area.
Giftshops, restaurants nearby.