Description, purpose:
"The ocean embraces a rich world which for the most part remains hidden from our eyes by the restless surface of its water.

That which dwells on the bottom - the creatures swimming or crawling amongst the rocks - is difficult to observe. It is for many a still unknown world, a world full of secrets iinto which our Marine Museum will give you a glimpse.

Through our exhibits and salt water aquarium, you will be introduced to the many creatures and objects from our local marine environment.

As most items in use by our fishermen untll recent times have now disappeared from our shores, our collection of fishing equipment is of particular significance. A visit to our Marine Museum will show you how dory fishermen of yester-years risked everything on the Grand Banks.

One of our displays features the sunken treasure recovered from the 1725 pay ship Le Chameau, the most dramatic wreck on our coast. We also have ship models and historic artifacts of particular interest to divers.

A visit to Louisbourg would not be complete witout experiencing the rich world lying beneath our waters."

(Text from the Museum brochure)
Highlights of the Museum: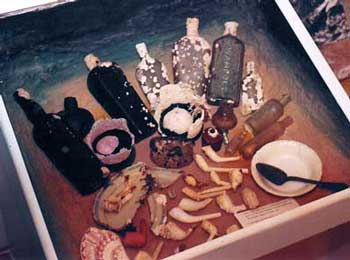 Above, an arrangement of artifacts found in small local harbours: Baleine, Louisbourg, Main-a-Dieu, etc. These range from the 17th century up to the 1950s. The pipes are thought to be earlier than the ones found at the Fortress of Louisbourg.
Most of the underwater artifacts shown in the Museum were found by Alex Storm.

The area covered extends from Main-a-Dieu Bay, Scatarie Island, Lorraine, towards Louisbourg and Gabarus Bay.
Above:
A collection of artifacts from various ships which disappeared into the North Atlantic waters between Scatarie Island and Louisbourg, among which an Irish immigrant ship, discovered near Lorraine.
Other interesting facts: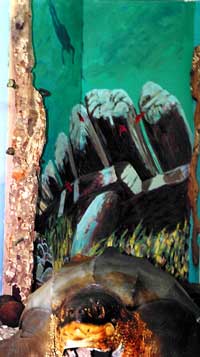 Against a backdrop created by Charles Dawd, one can see (picture, left) an impressive 600-pound Leather-Back Turtle, caught into a fisherman's net in the 1960s, and preserved by Alex Storm.

Also, one of the most significant and rarest pieces in the Museum is a cannon discovered in Sydney Harbour in the 1960s. It actually is the oldest artifact ever found in Sydney Harbour, and the only cannon retrieved from the same location.

Such a piece of artillery would have been used as a deterrent against pirates, in those times fish was salted in barrels along the shore. The cannon would have been placed at the end of a wharf in shallow waters; it might have accidentally fallen over and sunken into the mud.
Special activities or events:
---
Workshops / Educational Programs:
School visits, and school tours.
Contact information:
Ernie Parsons, owner and director
The Louisbourg Marine Museum

7548 Main Street
Louisbourg, Nova Scotia B1C 1J4

Tel. (902) 733-2252
Fax: (902) 733-2053
The Louisbourg Marine Museum's
Direction and Staff:
Ernie Parsons
Curator / Scientific Advisor:
Alex Storm
For sale at the Museum:
---
Open: from June to end of September
Mon. - Fri., 10 am - 8 pm
(Off hours / season: by appointment)

Admission: adults, $2,50; children under 12, $1.50; family, $7.00; group rates available.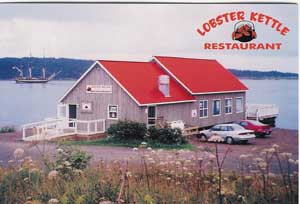 W.C., giftshops, restaurants nearby.

Museum tickets redeemable for a free beverage at the Lobster Kettle Restaurant.