(1598, or 1603 - 1688) Born in Tours, France. A merchant from La Rochelle who comes to Acadia in Sept. 1631, as the commander of a ship from the fleet of the Compagnie Isaac de Razilly , a subsidiary of La Compagnie de la Nouvelle-France. He will spend the next 40 years trying to develop the colony.

In the Spring of 1632, Denys becomes a fish trader at Port Rossignol (now Liverpool, NS), exporting cod to Brittany and Portugal. But since France is at war with Portugal, Denys decides to turn his attention to forestry in La Hève (La Have); but the Sieur D'Aulnay arrives and forces him to return to France. While over there, Denys acquires commercial rights for la Compagnie Miscou, another subsidary of la Compagnie de la Nouvelle-France, and he works in the dry cod fishery at Miscou (NB). Again in 1647, D'Aulnay (who happens to be his main creditor) seizes the post and forces him to abandon his trade.

This is when Nicolas Denys decides to restore the abandoned fort at Saint-Pierre (then called Fort Toulouse, founded in 1630) and another one at Sainte-Anne (or Port Dauphin), both in Cape Breton (called Isle Royale, under the French Regime). In the present town of St. Peter's, he builds his trading post in 1650. Across the isthmus or portage, he constructs a road of "800 pas"; with the aid of oxen he hauls his 'chaloupes' across, on skids. The Mi'kmaq come to trade furs; foodstuffs and grain from the Bras D'Or Lake are also traded. Denys can observe that native people know how to weave porcupine quills, as he put it, "just as one makes tapestry".

Unfortunately for Denys, a dispute arises with D'Aulnay's widow, who sends soldiers to take over the fort and the business; the trader is thus robbed of his possessions, and deported to Quebec City for the winter. Never losing courage, Nicolas Denys returns in the Spring of 1652 and creates a post at Nipisiguit (now Bathurst, NB).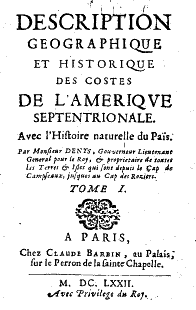 There he writes his first book, Description géographique et historique des Costes de l'Amérique septentrionale : avec l'histoire du païs -- one of the most precious documents published in the 17th century about Acadia.

This time however, Emmanuel Leborgne (another of his creditors) has him thrown in a dungeon at Port Royal (now Annapolis Royal), while he places a new commanding officer in charge at Saint-Pierre.

Freed with the British conquest of Port Royal in 1654, Nicolas Denys tries to settle in Chedabouctou, on the Nova Scotia coast, but again his ennemies (the Marquess of Cangé) put an end to his trading career by destroying his post in 1660. Holding firm in Nipisiguit, Denys is back in Saint-Pierre, home again. He can now force the commander to surrender and to leave: for he acquired in 1653, and now carries letters patent from the King of France; he has a commission from la Compagnie de la Nouvelle-France with the title of "Seigneur des Isles" of the Gulf of St. Lawrence, from Canseau (Canso) to Cap des Rosiers in the Gaspé peninsula, including Isle Saint-Jean (now P.E.I.) and the Magdeleine Islands. He ahs become governor and lieutenant general of those territories, and "Lord Proprietor and Governor of Cape Breton".

For 18 years, Nicolas Denys engages in fisheries at Saint-Pierre, manufactures lumber, and cultivates land; he reigns supreme at the centre of this island's trading activities. In the winter of 1669, his home and business are completely destroyed by fire, thanks to Sieur de la Giraudière. Denys, broken-hearted and brought to financial ruin, moves with his family to Nipisiguit.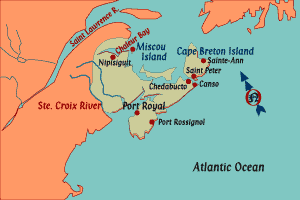 Places in the Maritimes where Nicolas Denys lived
In his seventies, Nicolas Denys leaves the Nipisiguit post to his son Richard. Back to France, this is where he publishes his memoirs, with the help of Esprit Cabart de Villermont. These consist of a first volume, titled "Description" (see above) which describes his travels, with a second volume about fishing, wildlife and his exchanges with the Mi'kmaq, whom he has lived with for some forty years.

It is titled: Histoire naturelle des peuples, des animaux, des arbres et plantes de l'Amérique septentrionale & de ses divers climats. Avec une description exacte de la pesche des moluës, tant sur le Grand-Banc qu'à la Coste; & de tout ce qui s'y pratique de plus particulier.
Nicolas Denys died in France in 1688.

It can be said, Denys was the 1st Acadian author; and the 1st forest developer in Canada. He was a maker of history in Acadia for over a half a century.